Happy Black Friday, everyone!! And happy belated Thanksgiving. In our usual fashion, we're a day late here at the Carsen household. Family arrives today, so today is our Day of Gluttony and Tryptophan.
However, still being in the spirit of Thanksgiving, I want to send out a HUGE thank you to all my readers! CAROLINA PEARL released on Tuesday this week, and it's been selling like gangbusters. I owe it all to you and want you to know how very, very grateful I am -- as well as how happy I am that y'all seem to enjoy my books!
Today I get to wallow in serendipity. Not only do I get to blog about mythology today, I also get to tie it into my book.
CAROLINA PEARL
features (big surprise) a pearl at the heart of the mystery. I made up the legend and the history behind the gem, but as always, I found precedent in real life for my fiction.
In gemological lore, pearls are often associated with queens and goddesses, so they have a very feminine base. In India, it's said that Vishnu plucked the first pearl from the sea to give to his daughter on her wedding day. Greeks believed that the drops of water that fell from Venus' body when she rose from the sea became pearls. Greek lore also states that a pearl given to a bride will keep her from unhappiness in her marriage.
From these stories, it's no surprise that they're associated with fertility and love. Crushed pearls dissolved in red wine will bewitch the drinker into falling in love with the spell-caster.
Pearls are also often associated with protection, whether from evil spirits, the wrath of the gods, or from everyday bad luck.
One of the largest perfectly shaped teardrop pearls in existence currently belongs to Elizabeth Taylor.
La Peregrina
is about two inches long and weighs approximately .35 oz (50 carats) -- and has graced the necks of royalty since the 16th century.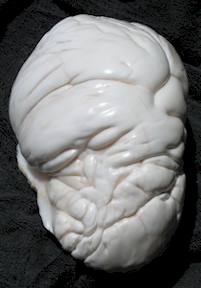 The largest pearl in existence weighs about five pounds and is estimated at about $40 million! It's called either
Lao Tze
or the
Pearl of Allah
and it looks like a huge brain. It's very unattractive, but it's a real pearl from a giant clam.
Black pearls, however, rarely come in such massive sizes and, in fact, are about 100 times more rare overall than white pearls. The largest black pearl on record is about 23 mm, or less than an inch in diameter. The pearl shown here, known as
Black Beauty
, is less known for its size (6.5 carats = .046 oz) than for its lustre and perfect shape.
The pearl I imagined for
CAROLINA PEARL
is a huge black pearl that was, ahem, "liberated" from a Caribbean governor's wife by a pirate in the mid-1700s. In my mind, it's the size of Taylor's
La Peregrina
and the color of
Black Beauty
. It provides all the graces of the myths surrounding pearls - lasting love and protection that encompass not only the home featured in the story, but also Conn and Blair and all those who have lived and loved there.
A family legend could lead to a treasure more precious than pearls…or get them killed.
Between babysitting her very pregnant sister-in-law and fending off her mother's nagging about her marital status, Blair Moreau is going insane. Her only hold on sanity is her daily walk for a guilty peek at her crush, the sexy neighbor who's fixing up the old Cotesworth place.
Conn Lucas, the bastard son of Culford's leading family, got way out of town a long time ago. When the only relative who didn't despise him leaves him her 250-year-old house, Conn plans to refurbish it, flip it, and get back to Connecticut as soon as possible. Until a local beauty with a rare talent for DIY gives him a hand with some stubborn siding.
When he makes her mad enough to swing a two-by-four at his head, he realizes Blair is better than perfect. Especially when his efforts to keep her from killing him explode into an erotic rush of adrenaline that unleashes desires they've both kept hidden.
Breaking through Conn's tough shell isn't as difficult Blair's next hurdle—telling him she's a werewolf. First, though, they've got to deal with meddling ghosts and a bad ol' boy cousin who isn't above taking what he wants at nail-gun point…
Product Warnings
:
This book contains a smokin' hot werewolf chick with serious DIY know-how and a man who thinks that's sexy; illegal use of nail guns; things to do in a claw-foot tub; pirate references; piddling Dobermans and meddling ghosts. Which is better than meddling Dobermans and piddling ghosts.
Read an excerpt
Buy now